Maintenance and after-care services Professional clean and repair
To keep the surface and structure of your Easi-Padel match fit, looking as good as new and at the top of its game, we always recommend an annual maintenance is carried out by our highly skilled team of professionals. High footfall sports surfaces, in particular, need regular attention to ensure optimum player performance and safety standards are maintained and meet the International Padel Federation requirements.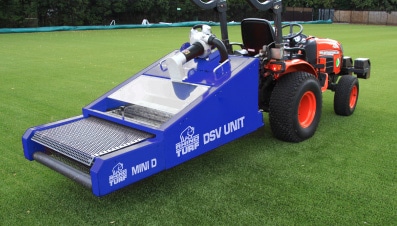 Using the latest state-of-the-art equipment, the Easi-Padel maintenance team carry out a comprehensive check and repair of the surface and structure. This process includes:
Check for seam repairs
Redress stabilising sand infill in low areas
Revive fibres for optimum ball bounce performance
Clean the surface
Remove atmospheric silt and dirt with our state-of-the-art artificial grass surface vacuum
Ensure maximum drainage efficiency
Check structure
Tighten bolts
Check integrity of all glass panels
The annual Easi-Padel maintenance service is guaranteed to lengthen the life and look of your padel court and maximises player enjoyment. All work is carried out in accordance with International Padel Federation (FIP) health, safety and sports performance standards, and assist our clients in meeting test house certification requirements.